Description
Nexus ProJoint High Performance SBR – 5 litres
In order to achieve the best possible outcome for your paving project, we recommend that you use our professional strength SBR for priming, and as an additive in your bedding mortar..
The ProJointTM SBR products are a water-based emulsion of a modified styrene-butadine polymer and have been designed to improve the strength and workability of sand and cement mortar.  They can also be used for priming the surface of natural stone or cement slabs or setts to promote adhesion.
With non-foaming properties ProJointTM SBR controls the density of the mortar and results in a significant increase in compressive, tensile and flexural strength.
For peace of mind that your paving will be securely bedded with additional benefits such as an excellent freeze:thaw resistance and mortar durability, you can choose between our High Performance or Contract SBR.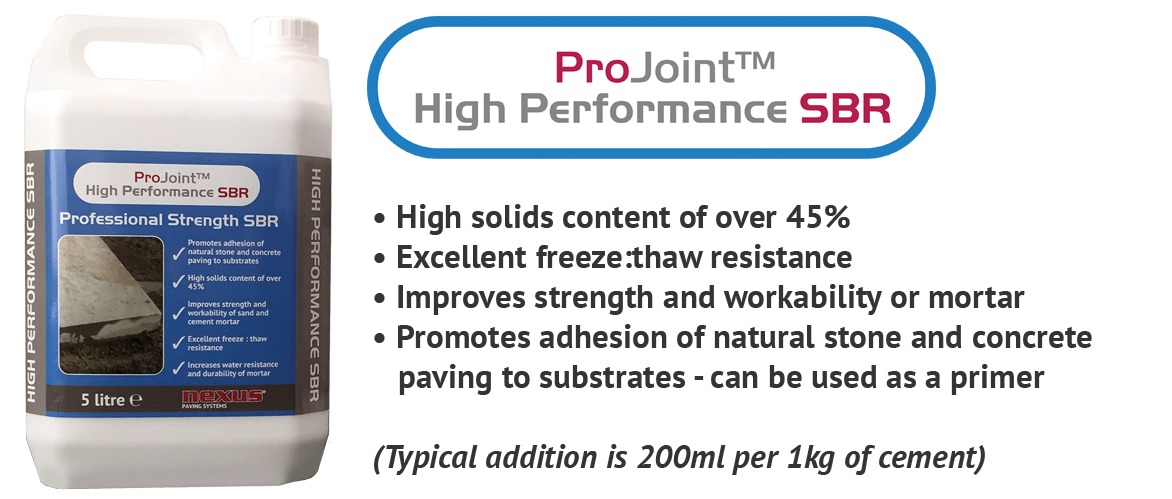 Both ProJoint High Performance SBR and ProJoint Contract SBR can be applied neat to the underside of paving substrates as a primer and adhesion promoter.  The addition rate depends on the application however, as a guide, typical addition is 200ml per 1kg of cement – full details are available.
Application & information sheet:
See further listing for ProJoint Contract SBR